LATEST RELEASES
Nightmare best tracks 2000-2095 [ćlowns]
Release Date: 3.26.2016
Price: ¥3,600 ($29 USD)
2-disc best-of album
Awakening Type A
Release Date: 3.23.2016
Price: ¥1,800
DVD of "Awakening" PV
Awakening Type B
Release Date: 3.23.2016
Price: ¥1,800
DVD of "twelve." PV
Awakening TYPE C
Release Date: 3.23.2016
Price: ¥1,200
CD only with extra song
Nightmare best tracks 2006-2010 [vapor]
Release Date: 1.6.2016
Price: ¥3,600 ($29 USD)
Where to Buy
Please consider supporting the band by purchasing their music.








Upcoming Shows
NIGHTMARE Fanclub Live 2016
The LEGENDARY SIX NINE: IDOL vs. VISUAL
Media Appearances
Magazine Features:
11.21.2015: SHOXX
11.27.2015: HOT PEPPER Beauty December issue (Sakito feature)
Radio Appearances:
11.30.2015: NACK5 Onitama 8pm-9pm JST
About Nightmare
Like their music, their look has evolved during the growth process.
There isn't much that's unimpressive about Nightmare's history. It's quite a feat to look back on how much they have grown in only eleven years and not consider them a great band, worthy to be counted among the others at the top of their genre. Even when they were the underdogs in Japan's music industry, they worked exhaustively on improving themselves as a band and as individuals. From the demo tapes of their debut to their latest single Vermillion, it's difficult to determine that both are from the same band.

But to understand Nightmare, you can't just listen to their music. As a Visual Kei band, Nightmare's appearance is an important part of what they do. In their early days, they showcased outrageous costumes that matured into the subtle, stylish attire they exhibit today. Like their music, their look has evolved during the growth process.

When high school students Sakito and Hitsugi formed the band on January 1, 2000, they had no idea they'd be peering out into the audience on Budokan's stage just eight years later, tearfully performing their song "Star [K]night" with thousands of fans singing along. Back then, they were guitarists with a dream; Sakito with his dedicated and experimental work ethic and Hitsugi with his innocent charm and love for the eccentric. Inspired by legends X Japan and Luna Sea, the two friends dipped their toes into the world of Visual Kei.

Yomi soon became the budding band's vocalist, contributing his enthusiasm and comic relief. Ni~ya was invited to play bass, which he did with a quiet yet intimidating demeanor. Drummer Zennin's stay was short; who was soon replaced by Ruka, who was previously part of Luinspear. Ruka completed the lineup as it is today, and the members cannot fathom Nightmare with even one member removed or replaced from their close-knit family.

In the beginning, Nightmare was out of control, with messy riffs and vocals, a sound that exemplified the name. The live shows in their homeland of Sendai were the introduction to their outlandish, dark costumes with heavy, destructive music. Their first demo, Zange, appeared in 2001, followed closely by their first single, Hankouki. At this point, Nightmare expanded their reach outside of their hometown, gradually releasing more singles. Outlaw, their first and only mini-album, introduced fans to their growing complexity and included the infamous "Star [K]night."

Nippon Crown promoted the band to major status in 2003, followed by the release of their first major single, Believe. From this point, they could only rise by learning to better control their wild riffs, polishing them to admirable wonders.

On Christmas of 2003, Nightmare released Ultimate Circus, which they carried with them on a tour that convinced an abundance of music-lovers to follow their phenomenon. Ribido came next, released in November 2004, housing such memorable tracks as "Tokyo Shounen," "Varuna," and "Tsuki no Hikari, Utsutsu no Yume." Around this time, Nightmare also began Sendai Kamotsu, their side project and alter-ego that embraced humor and a ska-inspired energy.

They were also gradually completing a series called "Gianizm," based on the egocentric philosophy of a "Doraemon" character, Gian: "What's mine is mine, and what's yours is mine." Each song is titled with a kanji character that has two meanings, and each song's lyrics focus on a different episode in the self-centered character's life. The music of the series is certainly Nightmare's most impressive; these are the tracks that best exemplify their growing abilities, the risks that call attention to the band's unpredictable nature. The series finished in 2010 with the release of tracks "Gianizm Shi" and "Gianizm Ten" on the band's GIANIZM album.

In 2005, Nightmare began appearing on radio shows, most often attended by Yomi and Hitsugi only. Their Anima album in 2006 quickly became a fan favorite and was followed by the release of a compilation album and two accompanying albums featuring earlier tracks, many of which were previously unreleased.

But the biggest event of 2006 occurred when Nightmare's music was chosen to open and end the popular Death Note anime. "The WORLD" was featured as the show's opening theme and "Alumina" became the ending theme. Due to the international success of Death Note, anime fans from all over the world were introduced to Nightmare, making their fourth studio album The WORLD Ruler highly successful. The band's label, at this time, became VAP. Later, their song Raison d'etre was used on the Claymore anime, DIRTY was the opening of Majin Tantei Nougami Neuro, and Lost in Blue and Naked Love appeared on Mouryou no Hako.

2008 introduced some more firsts for the band: their first single collection and first live album. The live album highlighted songs from their first live at Nippon Budokan, called "Kyokutou Symphony ~Five Stars Night~". Here, the four-minute track "Star [K]night" was lengthened to twelve minutes, complete with orchestra backing and an added section with emotional guitar solos.

Killer Show released in May 2008 and included the singles "DIRTY," "Konoha," and "Raison d'etre," as well as some b-sides from those singles. What it lacked in new material, it made up for by carrying a solid theme and story from beginning to end.

The band rocked Nippon Budokan for a second time while promoting their Majestical Parade album. This album, like Killer Show, had a theme of its own, opening with "Parade," a track sounding very much like the name. Ni~ya revealed his song-writing style with "Nothing You Lose," a classic rock, motivational track. The album concluded with "Chronicle," a song Sakito wrote to reflect back on the members' past experiences as musicians.

January 2010 marked the band's tenth anniversary, and they held a special New Year's Eve live to celebrate. The performance resulted in the release of their second live album, 10th anniversary special act vol.1 Gianizm ~Tenma Fukumetsu~. At their first Budokan performance, photos of what the band members might look like at their fiftieth anniversary were released. For the tenth anniversary performances, the amusing photos of Yomi were placed on Ruka's drum heads.

A few months prior to the anniversary live album, the band put out the single a:FANTASIA, which contained another song from Ni~ya, "Rover," a surprisingly beautiful track unusual to Nightmare's style. It further proved that Nightmare always has something new up its sleeves.

The band's tenth anniversary compilation album, titled Historical ~The Highest Nightmare~, released in October 2010. The album featured the band's most memorable tracks, some re-recorded, as well as a new track called "D Senjou no Trajedy."

As if their 10th anniversary wasn't enough, drummer RUKA announced his solo project titled The LEGENDARY SIX NINE (LSN). The concept behind this projdct is the lineup will change with the exception of himself. He started this solo project to experiment with sounds he isn't able to make with Nightmare. The first lineup of artists consisted of HAKUEI from Penicillin on vocals, rapper TWIGGY on vocals, with SHINOBU and Takayama on guitars, Ni~ya on bass as support members, and RUKA on drums. The band debuted in March 24, 2010 with the single "CRUEL" and performed at little HEARTS.5th Anniversary "MY little HEARTS. Extra Edition Vol.1."

On March 11, 2011, after Nightmare announced a surprise live show on its homepage, a 9.0 magnitude earthquake struck the Northeastern coast of Japan, followed by an imminent tsunami. The band's birthplace of Sendai was crippled. Hitsugi was active on Twitter during the days that followed, alerting victims to available help and safety precautions, as well as providing updates on the effects of the earthquake on the band members and their families. Devastated but hopeful, the band transformed one their surprise show, "unexpected live, publish!" into a fundraising event to provide critical aid to their hometown and surrounding areas.

Despite the tragedy, the single Vermillion, announced earlier, was released in May, scheduled as the first release under Nightmare's new adopted label, Avex Entertainment. They have since announced another single titled SLEEPER to release on September 7th. SLEEPER will be part of Nightmare's collaboration with GemCEREY, showcasing Nightmare's jewelry designs. Recently, they released their 8th original album, self-titled "NIGHTMARE", on November 23rd and will be starting a long tour in the beginning of December called "Nightmarish reality," where their last show on tour will be at Nippon Budokan on March 2nd.

To follow the success of their latest album, the hard yet refreshing single, "mimic", was released on February 29th. The single track was the opening track for TV Asahi kei's "BREAK OUT." While participating in many shows and tours, they released their 24th single, "Deux ex machina" on Novmber 28, 2012.

Following the two single releases, Nightmare started off 2013 with their eighth studio album titled "SCUMS," containing 14 tracks total. Little did the band know 2013 had many great things in store for them. After finishing their "beautiful SCUMS" tour, they announced their first overseas live in Paris, France for Anime Expo 2013 in July. Nightmare performed for two days: the first day alongside May'n, Una, and Urbangarde and a solo live the second day. Their show was a great success after having so many of their overseas fans wait for them for this long to come.

As if their first overseas live was not enough, guitarist Hitsugi announced his solo project GREMLINS, consisting of only one other member, KNZ (formerly Ayabie) and two support members, Chiyu of SuG on bass and Mizuki of Sadie on guitar. They released their first single, "the Carnival" on October 16th and debuted at the little HEARTS.5th Anniversary "MY little HEARTS. Extra Edition Vol.1."

Alongside Hitsugi's solo project debut, RUKA decided to restart his activities under LSN as well, with the line-up being Yuusa from THE KIDDIE on vocals, Kei from baroque/ kannivalism on guitar, SHINOBU from Creature Creature on guitar and Sugiya, formerly Moi dix Mois, on bass. LSN released a mini-album titled "BELIAL" on October 16th beside GREMLINS' single. They also performed at the little HEARTS.5th Anniversary "MY little HEARTS. Extra Edition Vol.1."

2013 was also Nightmare's 10th anniversary since their major debut. To celebrate it, the band released "Dizzy" on August 21st, followed by another tour, titled "Dizzy is not Zozzy." To carry on the momentum 2013 had brought the band, they will be releasing a single titled "リライト" in January 2014, with a song written by Ni~ya as the A-side.

No force of man or nature seems capable of stopping this band's progress. Nightmare has succeeded in redefining Visual Kei, breaking any boundaries in their way, and expanding the notion of what music truly means. But the band can do little in the music world without our sincere support strengthening and encouraging the Nightmare we've come to know and love.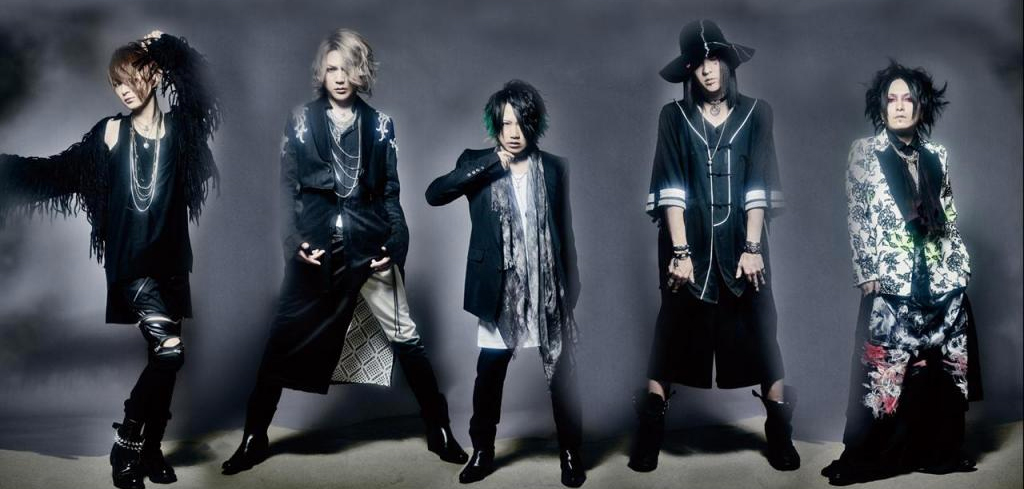 Nightmare Members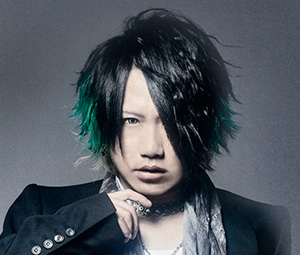 Yomi
Vocals
Birthday: July 14th
Blood Type: A

Most definitely the outgoing member of the band, as a vocalist should be, Yomi succeeds in making every offstage moment full of laughs and smiles, however perverted his humor may sometimes be. Over time, his vocals have evolved from scratchy, shaky, and crude to clean, controlled, and refined. He has also been dedicated to improving his physical health. But he always finds time to keep the other members in good spirits with his antics.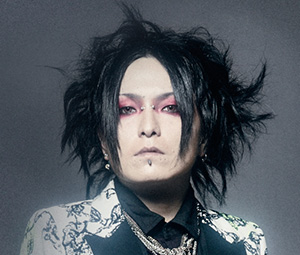 Hitsugi
Guitar
Birthday: March 5th
Blood Type: AB

In the beginning, he was Nightmare's terrifying yet intriguing member, with numerous piercings, unusual makeup, and dark, loose costumes. While the band grew, this persona gave way to the gentle, caring individual behind it. As a musician, Hitsugi is often the follower; he's written few songs for the band. As a person, however, he genuinely cares for his bandmates, friends, family, pets, and fans, and will be quick to help in times of need.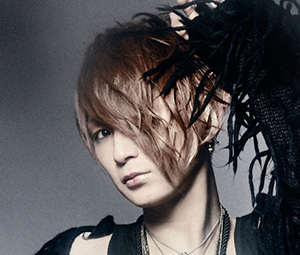 Sakito
Guitar
Sakito
Birthday: June 29th
Blood Type: O

Sakito's talent in guitar has always been impressive but has always been improving as well. As one of the primary writers of Nightmare's music and lyrics, he has proven that he's willing to experiment with new ideas and methods for the sake of keeping their music a living, growing, and breathing force in the lives of their fans. Other members often refer to him as "senpai," an honorific term that praises his superior skills and knowledge as a musician.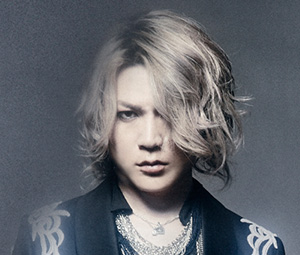 Ni~ya
Bass
Birthday: June 23rd
Blood Type: A

Ni~ya always wanted to be the "tough guy" of the band, the intimidating, cool one that no one would dare cross paths with. His stare and admirable bass skills solidified this image, but as he emerged as a song writer, he exposed a certain soft spot within his heart, particularly with the song "Rover." But he'll always be Nightmare's bold backbone, supporting his bandmates with his raw strength and ability. When not playing bass, he's often found fishing.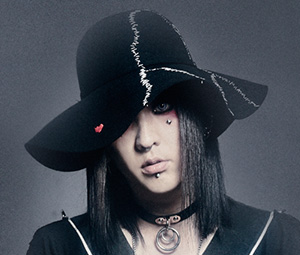 Ruka
Drums
Birthday: June 9th
Blood Type: O

To the fans, Ruka is a king, overseeing the rest of the band from behind his drum set. As Nightmare's other main songwriter, Ruka takes a more "glass half empty" look at the world, countering Sakito's often positive outlook. His songs have become increasingly more focused on heartbreak and misfortune, but hold unparalleled beauty in their sorrow. Known for his apathetic expression and sleeplessness, he's sacrificed countless hours for the sake of music.